Recent events in the news have heightened the interest in preventing crimes of all types in our schools and religious gatherings.  This update focused on applying crime prevention through environmental design (CPTED) principles to these locations.  These are the topics and resources discussed during this section of the FCPTI Update class.
PowerPoint
This is the PowerPoint slide presentation used during the class. You can view it here or download it to your computer or device.
Florida Safe School Design Guidelines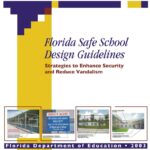 A CPTED survey can be used to assess the current state of the campus and provide suggestions to improve the utilization of the built environment. The Florida Department of Education published the Florida Safe School Design Guidelines manual that provides numerous CPTED strategies for schools.
Videos
Run. Hide. Fight.
Several school districts are now using a video produced by the Houston Mayor's Office of Public Safety and Homeland Security to instruct their staff and students on how to react to an active shooter incident. The FBI has a transcript and additional links on their Active Shooter/Mass Casualty Incidents page.
Games
Several people asked where to get the computerized games that can be used during presentations. Here is a link to more information.